Competitor to STEEL
VESTAMID® NRG for gas applications
For many years, steel was the only material available for gas piping for pressures between 10 and 18 bar. Now VESTAMID® NRG is competing with steel. The polyamide 12 withstands operating pressures of up to 18 bar, making it suitable for distribution lines and industrial connections. Accessories made of the same material are also available.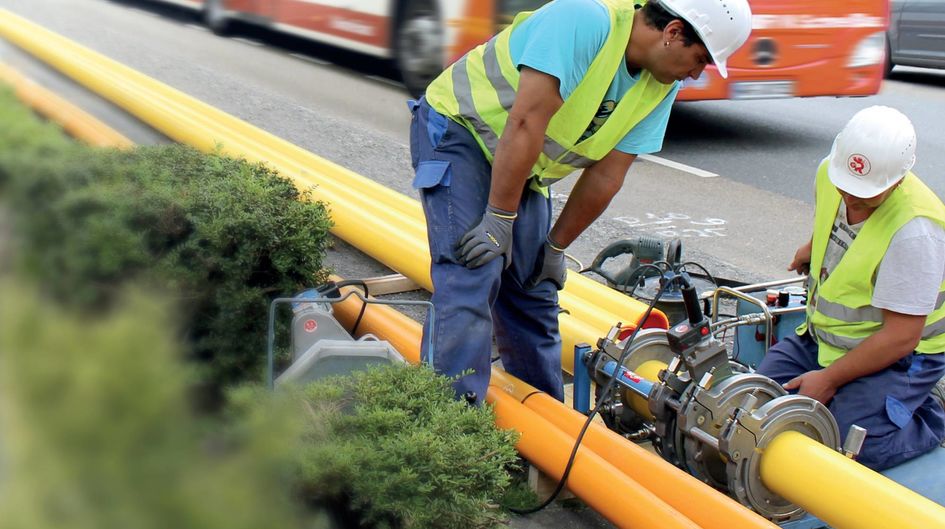 Material benefits
All-plastic PA 12 pipes have many advantages over steel. Plastic piping can be wound so that about 150 to 200 meters fit on a roll; steel pipes, on the other hand, have a maximum length of 18 meters because they cannot otherwise be transported by truck. Plastic pipes therefore require far fewer weld seams when being laid, which reduces installation time and costs. Maintenance is also less costly because no cathodic corrosion protection (permanent current or sacrificial anode) is needed. Due to simpler assembly, easier handling, and lower maintenance costs, system costs are significantly lower with PA 12 than with steel.

The VESTAMID® NRG piping systems allow general working pressures to be increased by 25 % compared to similar high-pressure plastic materials. They are
Resistant and durable
Corrosion-resistant
Resists heavy hydrocarbons
They feature
High resistance to both Slow Crack Growth (SCG) as well as Rapid Crack Propagation (RCP)
Improved installation effiiciency
Flawless function
H2 Ready tested
The Gas Technology Institute (DBI-GTI) in Germany has tested pipes made of VESTAMID® NRG for gas distribution for their use in transporting hydrogen and has authorized Evonik to give such pipes the H2ready quality mark. They are hydrogen-suitable for 100 percent by volume in natural gas.
proven record of performance
A number of VESTAMID® NRG commercial supply lines are now in regular operation. Pipe producers and installation firms are benefiting from this experience. The first installation in Germany (160 mm SDR 11, 16 bar) was in Beckum, North-Rhine Westphalia, in July 2017. Since 2005 global projects have led to installations in Brazil, Colombia, the US, and Indonesia with pipe diameters between 90 and 160 mm SDR 11 and SDR 13.6 and pressures of 14 to 16 bar.
Learn more about some projects