To the deep sea
Cutting edge technology for SURF applications
Sea oil production is becoming increasingly difficult. Companies have to go deeper to the seabed. Flexible pipelines are laid instead of rigid steel pipelines. These have to be protected against corrosion through seawater outside and from oil, gas, and water inside. This is where VESTAMID® NRG can provide assistance.
SUBSEA UMBILICALS, RISERS, FLOW LINES (SURF)
Flexible lines with a VESTAMID® NRG pressure plate can accommodate a potential increase in operating temperature of 6 °C compared to conventional polyamide materials. At identical design temperatures, this advantage significantly boosts service life and delivers key added value.
VESTAMID® NRG not only extends the service life of flexible lines, but also offers further advantages and far superior performance to conventional polyamide in most cases.
Improved ductility
Excellent breaking strength and mechanical properties, even under arctic conditions
Excellent creep behavior and compressive creep
Good methanol resistance
Excellent resistance to heat aging
Easy to process
These properties make this polyamide 12 the first choice when seeking suitable thermoplastic materials for applications in flexible lines.
VESTAMID® NRG meets the requirements of API 17 J and EN ISO 13628-2 standards. More than 1000 km of flexible risers have been produced using this material as a barrier and outer layer for offshore use by various leading oil companies.
COMPOSITE PIPES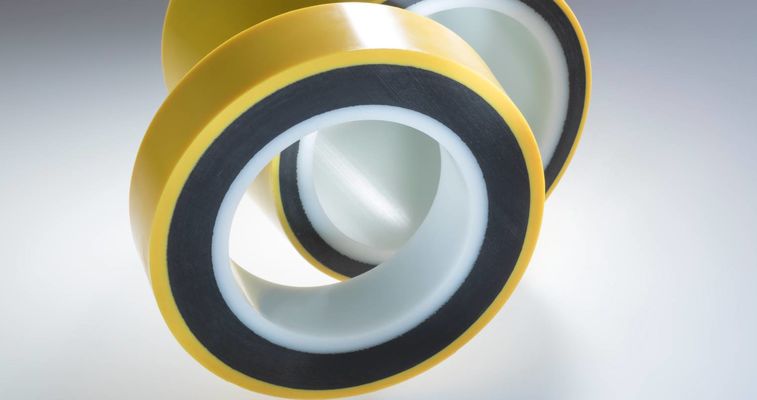 Thermoplastic Composite Pipes (TCP) and Thermoplastic Composite Risers (TCR) are increasingly being used in the oil and gas industry. Nowadays, such pipes are used for relatively short-term applications, while developments for long-term applications are underway.
VESTAMID® NRG, a material that has proved its worth for deep sea usage, can be applied for various functions in TCP and TCR designs:
As a liner material, suitable for multistage insets
As a matrix material for the protective layer
As a liner material to shield the protective layer against environmental factors
With VESTAMID® NRG 1003, Evonik has developed a special PA12, which allows the production of top-quality unidirectional fabric tapes for the protective layer. The focus for this product was to ensure an optimized combination with the fiber matrix and hydrolysis resistance.