elastic and well in shape
VESTAMID® E – Polyetherblockamide PEBA
PA 12 elastomers belong to the increasingly important material class of thermoplastic elastomers (TPE). Thanks to their outstanding properties they are indispensable in a large number of applications. Our latest development is a unique flexible foam made from this material.
The PA elastomers are block copolymers consisting of PA 12 segments and polyether segments (polyether block amides or PEBAs). Products rich in PA 12 have the basic properties of that polymer. With increasing polyether content the elastomer character becomes more marked: The polymers are more flexible and have higher cold impact strength.
Compared with competitive thermoplastic elastomers, VESTAMID® E compounds are distinguished particularly by the following properties:
low density
good resistance to chemicals and solvents
ease of processing, coloring, and overmolding
very easily decorated by heat transfer printing
excellent low-temperature impact strength
hardness and flexibility can be varied over wide ranges
high elasticity and good resilience
only slight temperature dependence of mechanical properties
free from volatile or leaching plasticizers
VESTAMID® E compounds are suitable for precision injection moldings, such as noiseless gears and functional elements of sports shoes, as well as for high-performance extrusion components like paint spray hoses, vacuum brake booster lines, and high-quality decorative films. We can provide you with unstabilized or heat- and light-stabilized material, according to your requirements. Transparent and high-gloss molding compounds are also available.
Performance and design are key in sports shoes, whether for soccer, skiing, or hiking. The thermoplastic elastomer polyether block amide (PEBA) meets the highest requirements placed on it—as it has been doing over the last 40 years. As far back as 1979 Evonik launched PEBA on the market under the VESTAMID® E brand name.
Freedom of design is very important in the sports goods sector, explains Klaus Hülsmann, Director Sports. "The shoe of tomorrow will look very different from that of today—and our material must be able to meet that challenge." PEBA is in fact very easily processed, colored, and overmolded. "It's also important that the material is elastic and virtually indestructible, no matter how the sportsperson uses it," adds Hülsmann. Ski or climbing boots made from VESTAMID® E, for example, are light, waterproof, and wear-resistant, and retain their flexibility in the cold.
VESTAMID® e²X sets new standards for thermoplastic elastomers: With its excellent transparency and color stability and fascinating gloss effect, the high-performance polymer outperforms customary product classes of polyether block amides.
The broad spectrum of properties such as excellent low-temperature impact strength, high elasticity, good resilience, and low density makes VESTAMID® e²X a preferred material for high-end applications in sports and consumer goods as well as the automotive sector.
New foam with high ball resiliency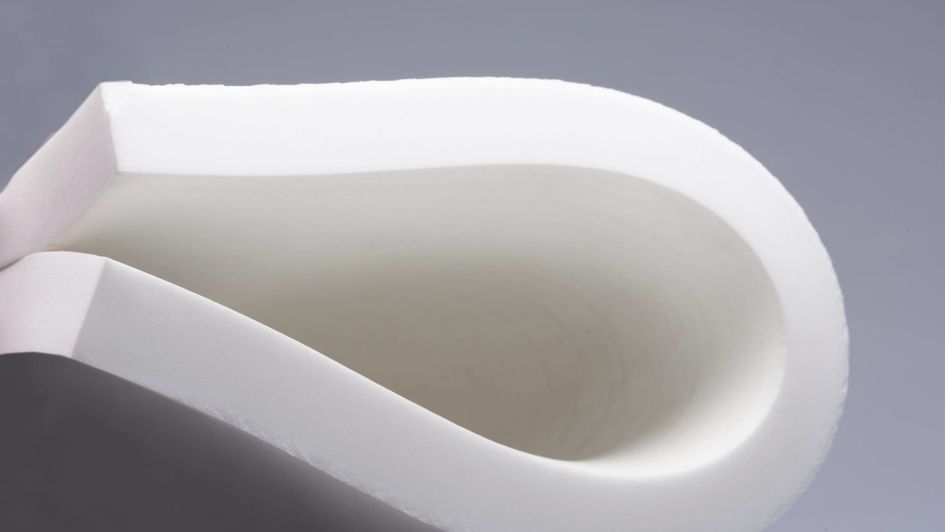 The latest development from our polyamide 12 elastomers is a unique flexible foam with a ball resiliency of 73%. It complements the excellent properties of VESTAMID® E PEBA with the low weight of 82 kg/m3 and exceptional comfort. It is not crosslinked and not plasticized and can be produced as extrusion and injection molded autoclave foam on standard machines.