Customized TO THE APPLICATION
VESTAMID® IN Other Line Systems
VESTAMID® compounds are found in almost every line in the vehicle. Each one has different requirements. What most automotive lines have in common is that they must withstand extreme conditions: the high temperatures near the engine, impacts and shocks - even well below freezing point - and they must be resistant to oils, greases, hydraulic fluids and solvents. At the same time, lines must be easy to produce and process. We therefore adapt our compounds specifically to individual requirements.
From clutch to Air suspension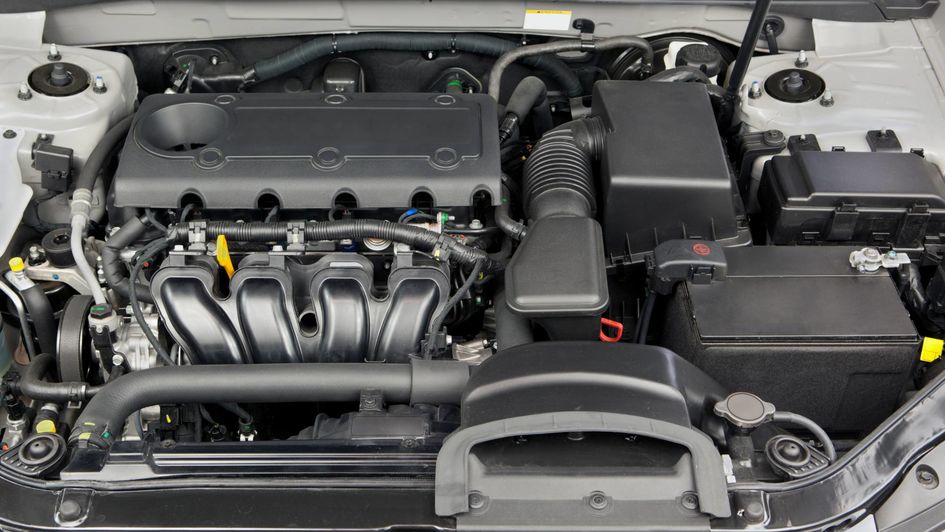 To support engine performance, tubes located near the engine block have to supply air or air-gas mixtures. To supply air, VESTAMID® L tubes are invariably used if other polyamides fail to have the requisite flexibility, low-temperature impact strength, and heat aging resistance.
Because air brake lines are exposed under the entire frame of heavy and medium utility vehicles, resistance to flying stones is essential. VESTAMID® L is distinguished here by its high impact strength and low-temperature impact strength. Even construction site vehicles can always rely on their brakes. At the same time, the lines are flexible enough that they can be moved freely between the assemblies and coiled into spirals.
Nowhere is the excellent chemical resistance of polyamide 12 more clearly apparent than in the area of metal connections: the zinc chloride in de-icing salt does not cause stress cracking in tubes made of VESTAMID® L. Our advanced compounds also meet the more stringent requirements for materials used to produce high burst pressure-rated air brake lines. In Europe, VESTAMID® L lines like these are used primarily in tractors, while VESTAMID® L tubes that meet the more traditional pressure requirements are used for trailers and coils.
Vacuum brake booster lines are exposed to temperatures up to approximately 150°C. They are placed between the brake booster and the engine, and they must have the necessary flexibility and low-temperature impact strength. In addition to generally good resistance to attack by chemicals and the ability to withstand stress cracking by air-gas mixtures, both internally and externally, good resistance to ozone is important—conditions that VESTAMID® L and E compounds are customized to satisfy entirely.
Steel tubes for hydraulic brake systems in passenger cars and light utility vehicles are fitted, for better corrosion protection, with a 0.15 mm thick extrusion coating of VESTAMID® L. This must, of course, adhere well to the metal and possess good low-temperature impact strength against stone impacts, not to mention feature good chemical resistance to de-icing salt and salt spray.
For clutch line systems, we offer VESTAMID® compounds with special resistance to engine oil, aggressive chemicals and the hydraulic fluids used. Since only a small amount of water diffuses from the outside into the manufactured pipes, it is ensured that the function of the hydraulic fluid is not impaired. At high internal pressures, the lines display only minor changes in volume—especially at high temperatures—which means that the clutch pedal is subject to uniform operating forces and pressure points. The special properties are:
High bursting pressure resistance, even with low wall thicknesses
Very good chemical resistance of the inside to hydraulic coupling fluid and good battery acid resistance of the outside
In addition to the line materials VESTAMID® L2141 and VESTAMID® DX9305, we also offer the partially biobased molding compounds VESTAMID® Terra HS2211 and VESTAMID® Terra HS22X-HI-H2, as well as materials for all connection techniques: VESTAMID® L-GF30, VESTAMID® X7099, VESTAMID® Terra HS1851. This means that the entire clutch system—lines and connectors—can be manufactured from a single source.
A feature that has long been widely used in utility vehicles is now being increasingly offered by manufacturers in passenger vehicles to improve comfort and safety: electronically controlled balancing of the vehicle on the road by means of an air suspension system. We have adapted the VESTAMID® L tubing and connector system, already proven in trucks, to the requirements of passenger cars: standard compounds for flexible air suspension lines that are resistant to pressure and zinc chloride and that feature low-temperature impact.
VESTAMID® E corrugated tubes with quick connectors are— all other things being equal—more leakproof, more durable, and less expensive to install than EPDM hoses for windshield washer systems. Due to the increased aggressiveness of windshield washer fluids as a result of the switch from isopropanol to ethanol as an antifreeze, we also offer VESTAMID® L and D compounds developed specifically for this application.
NOX reduction
To restrict environmental emissions from road vehicles, the European Parliament has further tightened the Euro 5 and Euro 6 standards as regards emission limits for light road vehicles with diesel engines, particularly as regards particle and nitrogen oxide emissions. In order to meet the latter requirement, car makers are currently developing systems for selective catalytic reduction (SCR) of nitrogen oxides. The reducing agent here is a 32.5 percent aqueous solution of urea, registered by the VDA (the German Association of the Automotive Industry) as AdBlue®. At temperatures above 60 °C, AdBlue® reacts with water to yield carbon dioxide and ammonia; the latter in turn reacts with nitrogen oxides, forming water and nitrogen and thus reducing the emission of nitrogen oxides by about 90 percent.
AdBlue® places the following high demands on the catalyst feed lines:
chemical resistance to urea and ammonia as well as to any gas mixture flowing back from the catalyst
hydrolytic resistance up to at least 60 °C, the maximum temperature of the urea solution
high impact resistance and elasticity in the cold because AdBlue® freezes with expansion at -11 °C
All these requirements are met by various VESTAMID® polyamide 12 compounds. Evonik supports automotive manufacturers in the development of their systems by offering different products for systems with different requirements. All VESTAMID® compounds were subjected to a recirculation test with AdBlue® at 60 °C and 80 °C (for external air temperatures of 40 °C and 50 °C, respectively) over a period of 5,000 hours to detect any changes in their mechanical properties. All of the tested grades have excellent values for strain at break and breaking strength, bursting strength, and, in particular, low-temperature impact strength at -40 °C.
VESTAMID® grades suitable for SCR lines
L2140
PA12-HL

LX9008
PA12-HIHL

X7293
PA12-HIPHL

Resistance to AdBlue®

++

++

++

++

Hydrolytic resistance

o

+

o

++

Resistance to exhaust gases

++

++

++

o

AdBlue® frost resistance

o

+

+

o