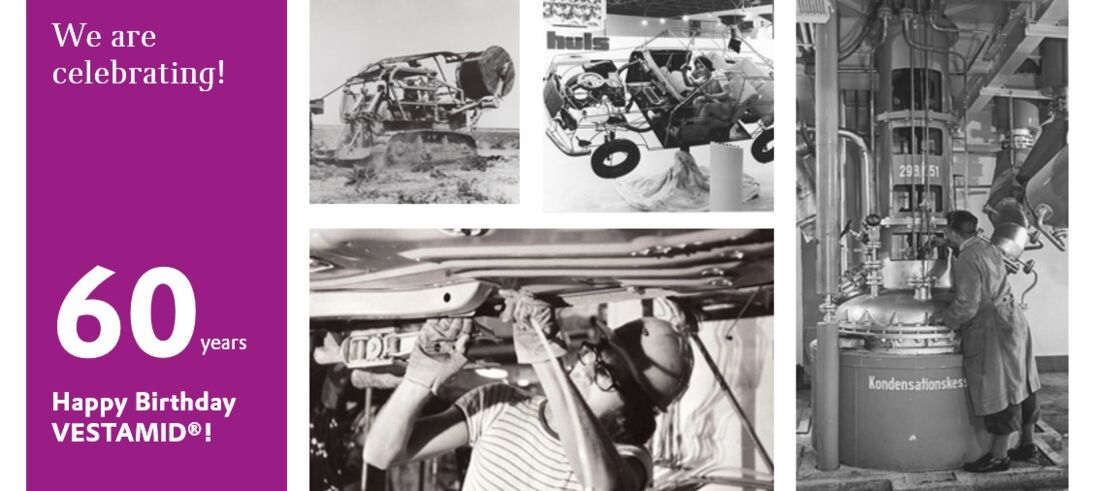 THE CORNERSTONE OF EVONIK'S HIGH PERFORMANCE POLYMERS
VESTAMID® POLYAMID 12
For 60 years polyamide 12 has been an integral element of Evonik's product portfolio and a cornerstone for the future development of its high performance polymers.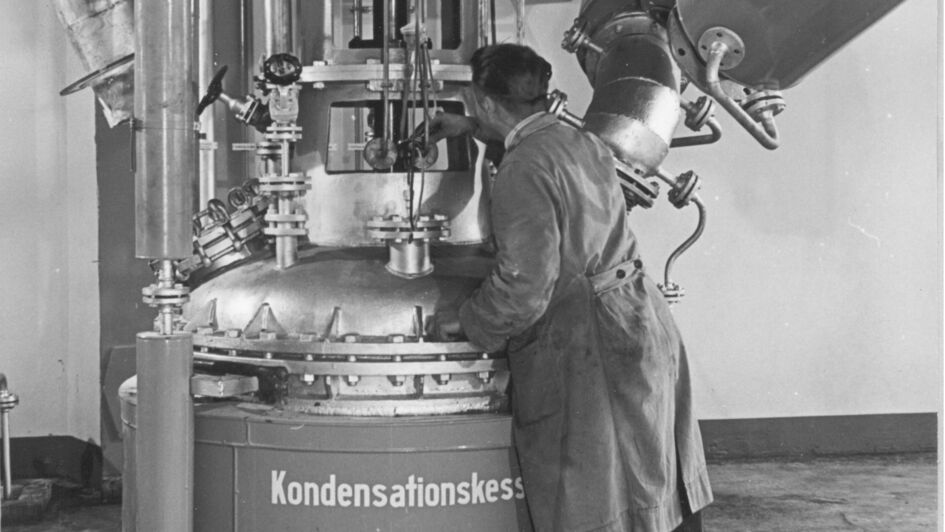 In 1963
at the K´63 plastics trade show, the former Chemische Werke Hüls AG unveils VESTAMID®, a polyamide 12 produced on the pilot-plant scale by a process developed in-house. Nobody could have imagined that the polymer specialty, regarded internally with some skepticism, would lay the foundation for high performance polymers from Evonik.
The steps involved in the process are:
trimerization of butadiene
hydrogenation of cyclodecatriene to cyclododecane
oxidation of cyclododecane to cyclododecanone
reaction of cyclododecanone with hydroxylamine, to yield cyclododecanone oxime
production of laurolactam by Beckmann rearrangement, using Ziegler catalysts
1964
The production of VESTAMID® initially started only on a pilot plant scale. Therefore, an agreement was reached in 1964 with Emser Werke AG, Dornat, Switzerland, that both Chemische Werke Hüls AG and Emser Werke Hülser would process lauric acid lactam into polyamide 12 (PA12) and market it independently.
1965
The actual start of the regular production of PA12 is considered to be the commissioning of the first reactor in 1965 in Marl with a capacity of 1,200 tpy. The main application areas of molding compounds, coating powders and hotmelt adhesives are initially all marketed under VESTAMID®. Therefore, the later VESTOSINT® was first marketed as VESTAMID® WS. Regular production began in the VESTAMID® factory in Building 298. At first, only a small reactor was available in the building for the precipitated powder for coating  (now known as VESTOSINT® ). After several years of planning and construction, the world's first plant for the production of CDT (cyclodecatriene) was commissioned in September 1965 in Buildings 485, 487 and 388 in what is now Marl Chemical Park in Germany. The production process at that time was based on the conversion of butadiene with the aid of Ziegler catalysts (CDT as a starting material for various polyamide 12 productions, among others).
1966
The first reactor, with an output of 1,200 metric tons of polyamide 12 per year, goes into operation. Under the brand name VESTAMID®, the product is processed into compounds, coating powders, and copolyamide hot-melt adhesives. The development of polyamide 612 also starts in the mid-1960s.
Central to the Asian business was the agreement reached in 1966 with Daicel Ltd. of Tokyo to set up a joint production company. Until then, sales had been conducted through regional offices, but now joint production also included technology issues. This involved polyamide 12, one of Hülser's most important (and most modern) product areas.
1970
Daicel-Hüls Ltd. was founded in Osaka to manufacture polyamide 12 in Japan and sell it in East Asia under the name DAIAMID. DAIAMID was otherwise marketed as VESTAMID®. Ownership of Daicel-Hüls was split 50/50 between Chemische Werke Hüls AG and Daicel Hüls Ltd. Later, other products were added, most recently VESTAKEEP®, PLEXIGLAS® and ROHACELL® (i.e. also products outside the PA12 spectrum). The name of the company today is Polyplastics Co., Ltd.
1977
Start of plant-scale trials for production of polyamide 12 elastomers. These will be marketed in the following years under the name VESTAMID® E.
1978
In October 1978, a new precipitated powder plant was put into operation in Building 298 in Marl using the ethanol process.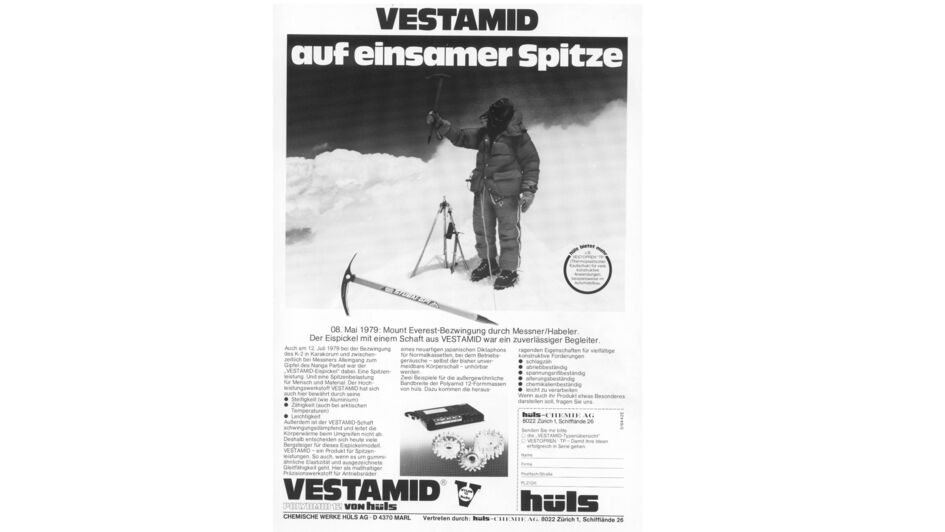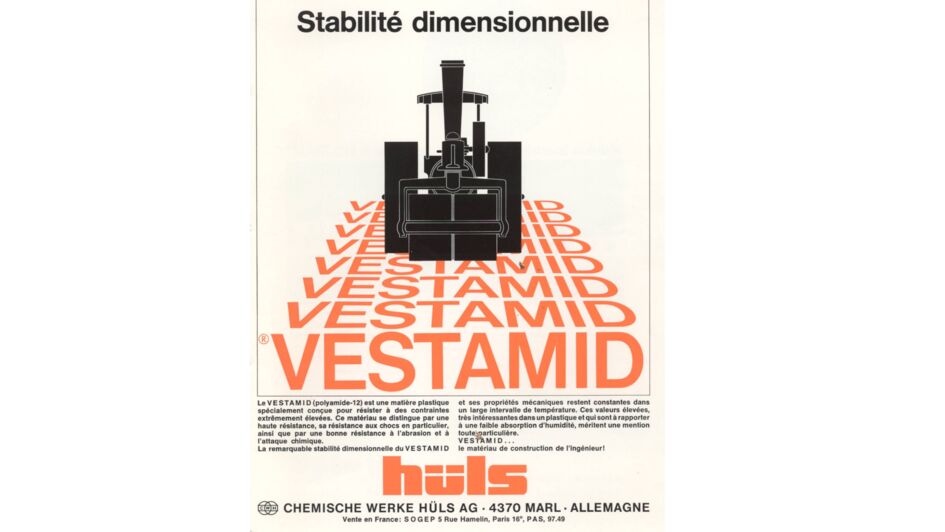 1982
It was not until 1982 that the new precipitated powder plant for VESTOSINT® was commissioned in Building 575 in Marl. The plant had two reactors and four dryers.
1986
The names VESTOSINT® for the polyamide 12 powders and VESTAMELT® for the copolyamide hotmelt adhesives were not used until the K'86 plastics trade show.
1996
Bosch-Siemens GmbH, which had been using VESTAMID®, a powdered polyamide 12, for many years to coat its dishwasher baskets and freezer evaporators, had given Hüls AG an award in 1996 for outstanding performance in delivery service. In 1996, the Hüls AG Innovation Award went to Evonik expterts for the development of a double-layer fluidized bed sintering process that allows virtually any color settings for coatings with VESTOSINT®.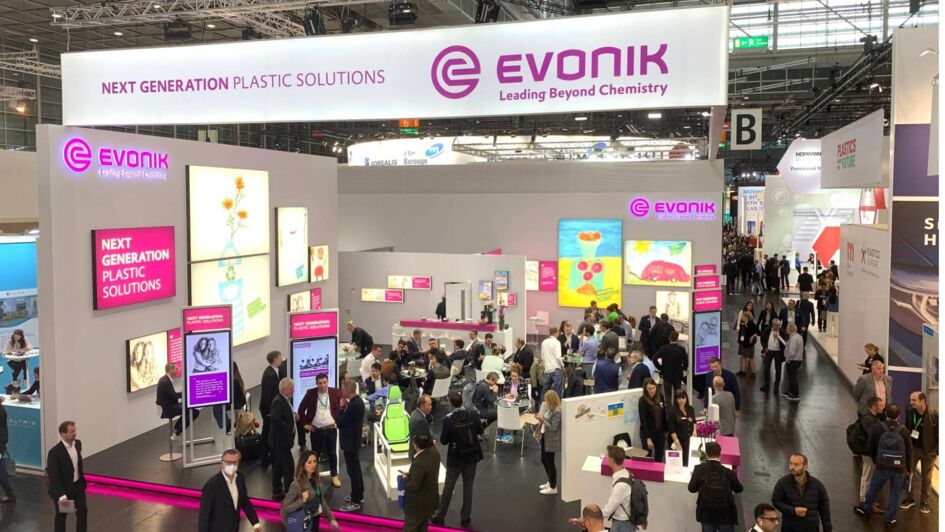 2000
Following construction of a pilot plant, a commercial plant is commissioned for continuous production of polyamide 12. The process was developed by Evonik (former Hüls) in 1993.
2001
An expansion of the VESTOSINT® plant in Marl took place in October 2001. The new plant expanded the capacity of the existing plant by 30 percent, with subsequent debottlenecking already integrated into the planning. Incidentally, the business unit to which the plant was transferred at the time already bore the name High Performance Polymers.
2008
At the FAKUMA trade show in Friedrichshafen,Germany, Evonik unveils VESTAMID® HTplus, a high-temperature-stable semicrystalline material based on polyphthalamide, to the general public.
2009
With VESTAMID® Terra, Evonik launches polyamides of biogenic origin for the first time on the market.
2012
The capacity of the lauric lactam (PA12, VESTAMID®, VESTOSINT®) production plant at Marl Chemical Park in Germany was expanded and started up in February 2012.
2019
Construction starts on the new PA 12 complex in Marl, Germany.
2021
Launch of our new sustainable product series: VESTAMID® eCO and VESTAMID® RFP .
2023
Completion and start-up of the new state-of-the-art Polyamide 12 complex in Marl, Germany. Representing its largest single investment of Evonik in Europe, the new fully operational plant complex is located at Evonik's chemical site in Marl, Germany, and increases the company's production capacity for PA 12 by more than 50 percent. The facility, which is the most modern plant of its kind in the world, plays an important role in producing polymers that enable some of the most cutting-edge technologies, including 3D printing.
On October 1, 2023,  production of all VESTAMID® compounds switches over to renewable electricity.