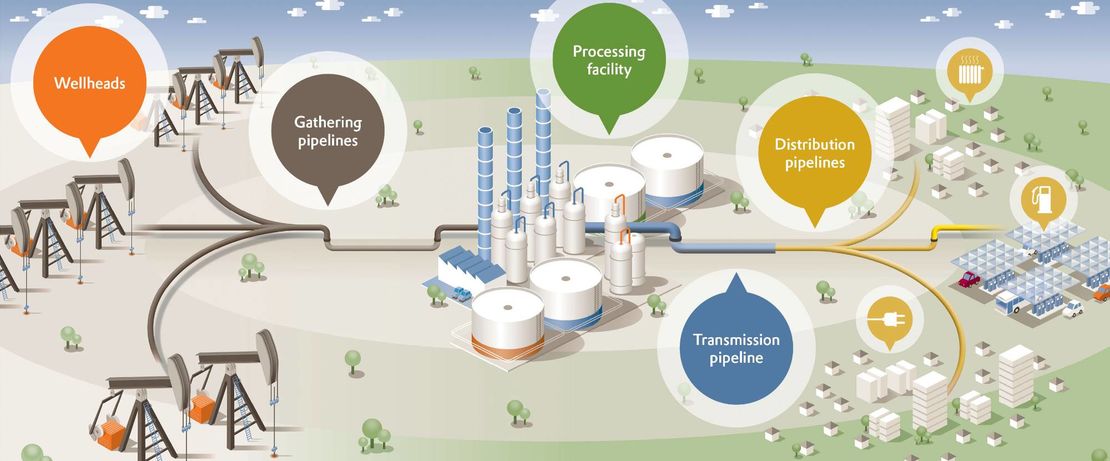 Press release
Presse
November 9, 2021
Designed for above-ground installation
The new VESTAMID® NRG 5901 for gathering lines
Excellent UV resistance properties, well suited for long term outdoor applications
Suitable for pressures up to 315 psi (22 bar) and elevated temperature service
Complies with ASTM F3524 standard for Polyamide-12 Line Pipe
Essen/Marl, Germany. Evonik is adding another product to its portfolio of VESTAMID® NRG polyamide 12 (PA12) compounds specially developed for applications in the energy sector: VESTAMID® NRG 5901 is a UV-resistant, black compound suitable for above-ground installation. Compared to coated carbon steel pipe, the cost is about 30% lower because cathodic corrosion protection is not required, and installation can be done using low-cost techniques similar to HDPE pipe systems.
Gathering and flowlines are used in rural areas to transport crude oil, natural gas, or multiphase fluids from the point of production (wellhead) to a central collection point. Due to relatively high pressures and flow rates, these have historically been a market for carbon steel pipes, which must be protected against corrosion with appropriate measures during their service.
for long term outdoor applications
VESTAMID® NRG 5901 PA 12 compound is now available as a thermoplastic material that is insensitive to corrosion. Unlike polyethylene pipes, it can be used up to pressures of 315 psi (22 bar) for oil and gas gathering. According to the TR4 listing of the Plastics Pipe Institute (PPI, USA), the long-term hydrostatic stress (Hydrostatic Design Basis HDB) of polyamide 12 is rated for design temperatures up to 180 °F (80 °C). VESTAMID® NRG 5901 complies with ASTM F3524 standard for PA12 pipes. The compound is colored black and UV-stabilized, so that above-ground installations are also possible. Since the pipes can be coiled and thermo-fused, they can be installed using cost-effective methods benefitting from a wide range of readily available accessories.
Polyamide 12 VESTAMID® NRG
Especially developed for applications in the energy sector, VESTAMID® NRG PA 12 compounds include products for pipelines for off-shore and on-shore oil and gas generation, gas distribution, liners and steel pipe coating.
Caption
The black polyamide 12 compound VESTAMID® NRG 5901 was developed for line pipes, suitable for above-ground installations (gathering pipelines). PA 12 line pipes save costs due to easy installation and low maintenance.
Please find here the respective photo.
Company information
Evonik is one of the world leaders in specialty chemicals. The company is active in more than 100 countries around the world and generated sales of €12.2 billion and an operating profit (adjusted EBITDA) of €1.91 billion in 2020. Evonik goes far beyond chemistry to create innovative, profitable and sustainable solutions for customers. About 33,000 employees work together for a common purpose: We want to improve life today and tomorrow.
About Smart Materials
The Smart Materials division includes businesses with innovative materials that enable resource-saving solutions and replace conventional materials. They are the smart answer to the major challenges of our time: environment, energy efficiency, urbanization, mobility and health. The Smart Materials division generated sales of around €3.24 billion in 2020 with about 7,900 employees. 
Disclaimer
In so far as forecasts or expectations are expressed in this press release or where our statements concern the future, these forecasts, expectations or statements may involve known or unknown risks and uncertainties. Actual results or developments may vary, depending on changes in the operating environment. Neither Evonik Industries AG nor its group companies assume an obligation to update the forecasts, expectations or statements contained in this release.